Improving office cleanliness is always good practice. Even if your office is professionally cleaned on a regular basis, keeping up with good hygiene practices between those cleaning is a must. Not only does it boost morale and productivity, but it can also reduce operating costs.
5 Tips for Improving Hygiene and Reducing Operating Costs
Here are 5 tips for improving hygiene within your office or facility. (Courtesy of CMM)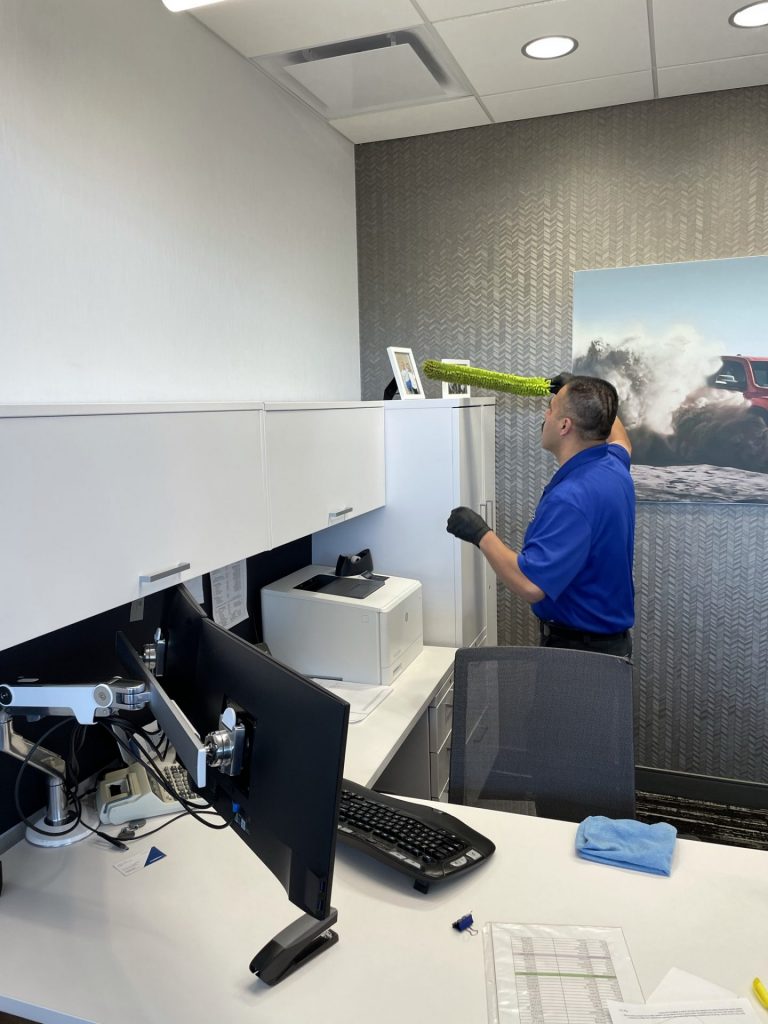 1. Change consumables
Soap dispensers come in a couple of different forms. The best option in terms of hygiene is a "closed" soap dispenser. This type of dispenser includes a hygienically sealed nozzle and reservoir.
Using a closed system can reduce the number of bacteria that contaminate the soap. It may also help to use foam dispensers as well, as these cause less of a mess.
Paper towels are also another relatively low-cost option to reduce the number of bacteria after handwashing. Either white or brown paper towels are recommended.
2. Install automated, touchless dispensers and fixtures
Manually operated paper towels, soap, and water fixtures can be troublesome when trying to practice good hygiene. Users may wash their hands and touch the faucet after with wet hands, causing unwanted bacteria to grow and spread.
Automated, touchless dispensers can be applied to water faucets, paper towel dispensers, soap dispensers, and even flush valves. Implementing these not only saves you from unnecessary bacteria, but may also decrease operating costs. This is because these devices only produce enough to get the job done, reducing usage and waste.
Read: Tips for Safe Disinfectant Use Between Cleanings
3. Implement smart restroom technology
Smart restroom technologies are no longer systems of the future. They're becoming the standard for modern restroom maintenance. Smart restroom technology prompts office cleaners to regularly sanitize touch points throughout, such as doorknobs, stalls, and toilet paper dispensers.
Product waste is also reduced with the use of these systems. They regulate the amount that is flushed and let cleaners know when they're empty so there is no overfilling.
4. Provide proper training
Having updated fixtures and technologies is important, but it doesn't mean much if proper techniques and practices aren't being followed. Teaching employees about safe hygiene practices within the office or facility will drastically reduce the misuse of cleaning technology.
Either onboarding training, self-learning videos, or putting small instructional signs around may be good options to help increase the knowledge of safe hygiene practices.
5. Find the right partners
Look for a product distributor that tailors its goods toward your company's needs. Providing the necessary information to effectively use cleaning systems and technologies is essential. In addition, look for a reliable commercial cleaner who will help you maintain a clean work environment.
Having good hygiene within your office or facility is important. Automated fixtures and technologies can improve hygiene, health, productivity and employee satisfaction.
ROC Commercial Cleaning is your trusted Twin Cities janitorial service. We provide contract cleaning for office buildings, medical and veterinary clinics, auto dealerships, salons, retail stores, industrial buildings, office disinfection services, and more. We also provide construction cleanup during and after construction projects of all sizes. No cleaning job is too big or too small for our experienced cleaning teams!
Get off the cleaning rollercoaster. Contact ROC Commercial Cleaning at 612-581-2776 for your free, no-obligation estimate.