OUR VALUES
---
Trust ROC to Take Care of Your Business
ROC Cleaning is a locally-owned business headquartered in the Twin Cities metro area. ROC was founded by two families on one basic principle: to be the best cleaning company in the Twin Cities.
We believe that value is not measured in dollars, but in results. ROC is not the lowest-priced janitorial service in the Twin Cities metro. However, there is great value in a clean building and a stress-free process, and ROC provides that value. Visit our methods and our Account Manager program pages to learn more about the ROC difference.
If you're ready to get off the cleaning rollercoaster and work with a company that truly delivers on its promises, give us a call! We know that ROC Commercial Cleaning will be the last cleaning company you'll ever hire.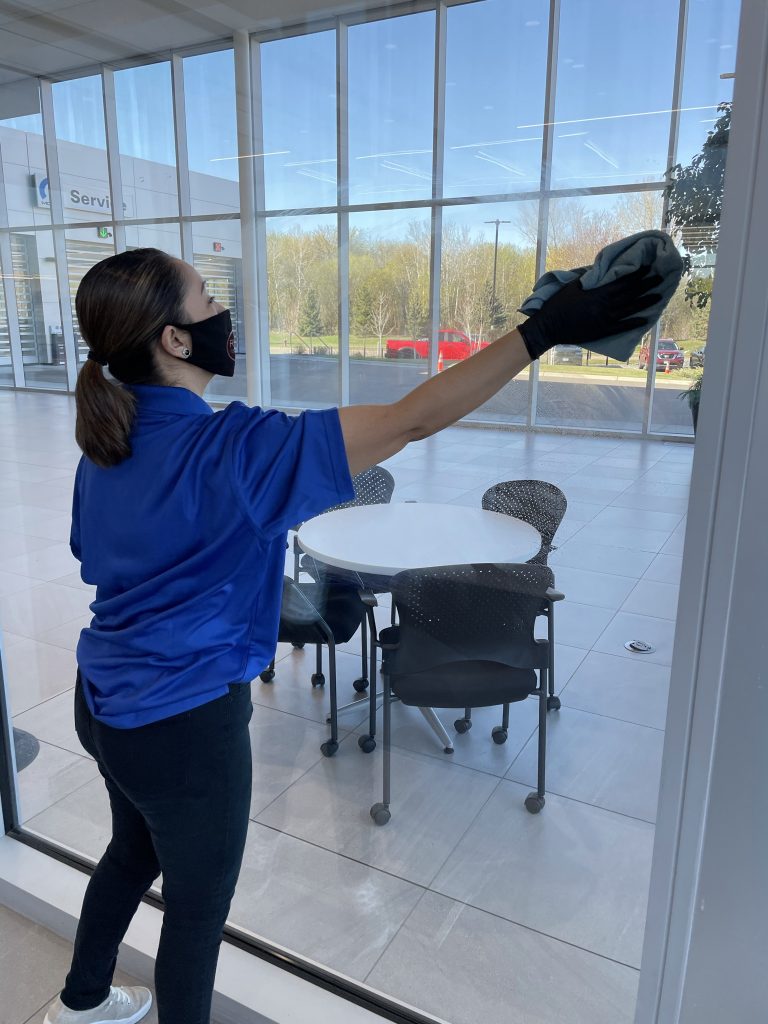 The ROC Core Values
At ROC Cleaning, we operate on four core values: Quality, Value, Service and Trust.
Quality
ROC Cleaning's Account Managers inspect buildings regularly, ensuring that the contract's scope is met with each clean.
Establishing regular, long-term cleaning crews leads to a consistently higher quality of cleaning.
Each contract is set up to ensure that the cleaning teams have enough time and resources to deliver quality service every time.
Cleaning isn't rocket science – it's execution. It's about the details and doing them right every time. ROC does exactly that!
Value
Contracting with ROC Cleaning frees you up to manage your business, not the cleaning team. The #1 priority of our Account Managers is making sure you have a clean and problem-free building.
When you receive a proposal from ROC, you will be introduced to our Owner or Executive Account Manager. Our concern is not signing the contract, but making sure that ROC meets your needs, and that the cleaning teams are a respected and valued part of the contract process. This results in low staff turnover and higher-quality cleaning.
We don't have franchising fees. Every dollar you pay goes to keeping your building clean, not to a national franchise.
Our consistently high-quality cleaning and attentive service will save you time and money over the long term. ROC will be the last cleaning company you will ever hire!
Service
We answer our phones! No leaving messages or waiting hours for return calls. It's a simple approach, but one that is uncommon with other janitorial companies.
Our 24/7 emergency response gets you back in revenue-generating form fast.
We manage all the details of your cleaning services for you. You can trust that we have everything under control.
ROC takes a proactive approach. We find and resolve potential issues before you even know that they happened! We are up-front and honest and will work with you to make things right.
The members of the cleaning teams are people, and no person is perfect. When a concern does arise, ROC Account Managers address it and come up with a plan to ensure that it doesn't happen again.
Trust
ROC Cleaning is trusted by over 400 businesses throughout the Twin Cities metro area.
With the same faces performing every cleaning, you'll know exactly who is in your building.
ROC Cleaning teams will keep your building safe and secure throughout the cleaning process. All doors are kept locked at all times, and double-checked when they leave.
If anything appears out of the ordinary, we will notify you as soon as is reasonable. We won't hesitate to contact the police or other authorities if needed. You can trust your building and your business with ROC.
We offer a free, on-site, no-obligation estimate. Contact us to get started.