The COVID-19 pandemic has changed our expectations of cleanliness in both public and private settings. If customers encounter a dirty restroom in a store, salon, or small business, they won't just be dissatisfied with their experience. They may be unlikely to return at all, out of a fear for their health. It's more important than ever for your organization to maintain a clean restroom.
If you're struggling to keep a clean restroom, give ROC Cleaning a call. We provide commercial restroom cleaning daily, weekly, or on any schedule that works for you. Let ROC help your business maintain its reputation, keep employees happy, and protect the bottom line.
Read: What do Employees Want? A Clean Work Environment.
In addition to regular bathroom cleaning services, here are a few ways to keep your restrooms clean every day, for every customer.
How To Keep a Commercial Restroom Clean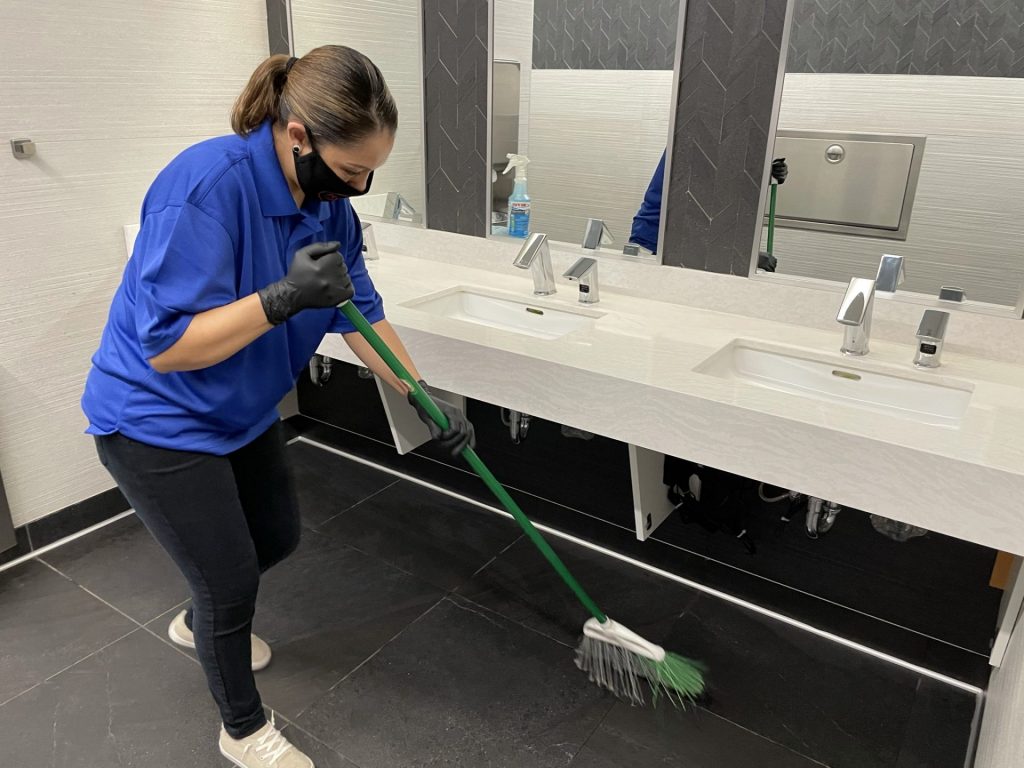 Switch to Touchless Fixtures
By changing toilets, faucets, soap dispensers, and towel dispensers to touchless models, you will reduce points of contact and the spread of germs. Many businesses are also moving away from air dryers in favor of paper towels.
If you decide to add touchless fixtures and dispensers, choose options that allow staff to easily see when items need to be refilled, and to refill them easily. You could even invest in smart technology that sends an alert when something needs attention.
Perform More Frequent Checks
Even if employees aren't tasked with cleaning the restroom, you'll want to assign staff to perform restroom checks frequently throughout the day. Make sure the bathrooms stay free of clutter, that dispensers are full, and that there are no major issues.
Read: Tips for Safe Disinfectant Use Between Cleanings
Empty Garbage Cans Often
Bacteria, such as E. coli and Listeria, thrive in garbage cans. Empty them frequently to keep bacteria – along with odors and visual messiness – at bay.
Don't spend your valuable time cleaning the restroom! Call Pete to schedule your free consultation today.
ROC Commercial Cleaning is your trusted Twin Cities janitorial service. We provide contract cleaning for office buildings, medical and veterinary clinics, auto dealerships, salons, retail stores, industrial buildings, office disinfection services, and more. We also provide construction cleanup during and after construction projects of all sizes. No cleaning job is too big or too small for our experienced cleaning teams!
Get off the cleaning rollercoaster. Contact ROC Commercial Cleaning at 612-249-7576 for your free, no-obligation estimate.
Source: CMM Online, "Restoring Restroom Confidence"