When it comes to workplace carpeting, spills and stains are a pain. However, there are ways to help you prevent and treat these mishaps at the source. Avoiding these common carpet cleaning mistakes will save you time and money, and extend the life of your carpeting.
8 Common Carpet Cleaning Mistakes to Avoid
Avoid these common cleaning mistakes when cleaning your carpeting: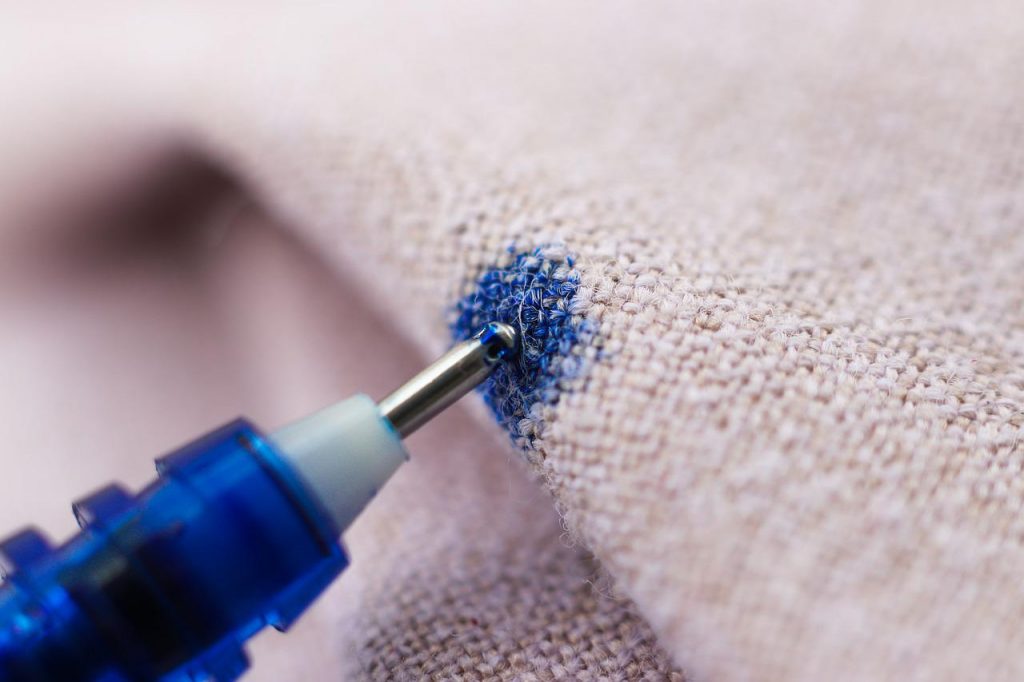 1. Vigorously Rubbing a Spill
It's never a good idea to try to rub or scrub a spill. Vigorously rubbing a spill into the carpet can damage the fibers, and often results in the stain getting pushed deeper into the base of the carpet. Scrubbing also causes unnecessary twisting and fraying of the carpet fibers, leaving long-term damage. Whenever possible, always use the blotting method to safely pull the stain out of the surface.
2. Not Acting Fast Enough
When a spill happens, take action as soon as possible. Waiting too long to clean up a spill may result in the liquid soaking into carpet fibers and absorbing into the padding. Cleaning spills quickly can also prevent further damage like unwanted odors or mold growth.
3. Using the Wrong Product
Use the right solution to use for certain spills to prevent damage to your carpet down the line. If you use the wrong solution, it can cause unnecessary damage and discoloration. Read labels and follow manufacturer guidelines on all cleaning products.
4. Not Testing New Solutions
Test products on a small patch of carpet before using them widely. This will avoid widespread damage, and help you understand how to use the product correctly.
5. Using a Deodorizing Powder
Deodorizing powders can be tricky to use since they are often harmful to carpet. A common misconception is that these powders can be used to clean carpets, but they can't. If you do decide to use a deodorizing powder, look for a product that isn't as harsh on carpet fibers.
Read More: Do Carpet Deodorizers Help or Hurt?
6. Using Too Many Chemicals
When it comes to chemicals for carpet cleaning, more does not mean better. Oversaturating carpet with different chemicals can cause unwanted residue to build up in the base, and overall damage to carpet fibers.
7. Never Using a Professional Cleaner
Using a professional carpet cleaner can save both time and money in the long run – not to mention the overall health and longevity of your carpet. Regular visits from professional carpet cleaners are like taking care of your teeth at the dentist. It'll prevent long-term buildup of dirt and grime within the fibers of your carpet.
Read More: Professional Carpet Cleaners vs DIY Carpet Cleaning
8. Renting Faulty Cleaning Equipment
Renting DIY carpet cleaners can sometimes do more harm than good. Rental machines are known to cause unnecessary damage to your carpets and can often leave behind excess cleaning solutions, which may cause mold.
Making sure you take all the necessary precautions when dealing with little or big spills will keep your carpet cleaner and healthier in the long run. After all, a healthy carpet creates a positive and clean environment that is beneficial to all.
ROC Commercial Cleaning is your trusted Twin Cities janitorial service. We provide contract cleaning for office buildings, medical and veterinary clinics, auto dealerships, salons, retail stores, industrial buildings, office disinfection services, and more. We also provide construction cleanup during and after construction projects of all sizes. No cleaning job is too big or too small for our experienced cleaning teams!
Get off the cleaning rollercoaster. Contact ROC Commercial Cleaning at 612-249-7576 for your free, no-obligation estimate.