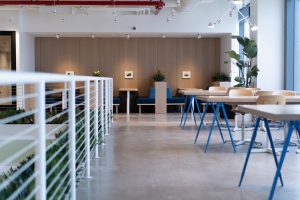 A clean and fresh-smelling workplace can help improve productivity and morale. However, with a large number of employees, it can be challenging to keep the workplace odor-free. Here are a few tips that can help fight unpleasant odors in the workplace.
Encourage good hygiene
Good hygiene practices like hand washing and regular grooming can help reduce the spread of germs and prevent bad smells from spreading. Encourage employees to wash their hands frequently and bring their grooming products from home.
Related: 5 Tips for Improving Hygiene and Reducing Operating Costs
Regular cleaning
Regular cleaning can help keep the workplace smelling fresh and free from unwanted odors. Focus on cleaning high-traffic areas like bathrooms, kitchens, and break rooms, as well as frequently used items like phones and keyboards.
Related: How Regular Cleaning Boosts Office Morale and Productivity
Use air fresheners
Air fresheners can help mask unpleasant odors and keep the workplace smelling fresh. Choose a fresh scent that is not overpowering and place air fresheners in areas that need it the most, like bathrooms and break rooms.
Invest in quality ventilation systems
A well-functioning ventilation system can help reduce unwanted odors and improve air quality. Make sure the ventilation system is regularly serviced and cleaned to ensure it is working optimally.
Related: How To Improve Office Air Quality
Limit food odors
Food odors can be overpowering and contribute to unpleasant smells in the workplace. Encourage employees to eat outside or in designated break rooms. Also, limit the consumption of strong-smelling foods like fish, curry, and onions.
Use odor-eliminating products
There are several products available that can help eliminate unpleasant odors. These products work by neutralizing odors rather than masking them. Consider using odor-eliminating sprays or deodorizers in areas that need it the most.
Related: Do Carpet Deodorizers Help or Hurt?
Keeping a workplace smelling fresh and clean requires effort from everyone. Encourage employees to practice good hygiene, maintain a clean and well-ventilated workspace, and use odor-eliminating products where needed. By following these tips, you can create a workplace that is pleasant, comfortable, and conducive to productivity.
---
ROC Commercial Cleaning is your trusted Minneapolis commercial cleaning company. We provide janitor services for office buildings, medical and veterinary clinics, industrial buildings, and more. We also provide floor stripping and waxing, construction cleanup, and office disinfection services. ROC Commercial Cleaning is an experienced and reputable Minnesota corporate cleaning service provider – no job is too big or too small!
Get off the cleaning rollercoaster. Contact ROC Commercial Cleaning at 612-581-2776 for your free, no-obligation estimate.